4SINGLE: HEIGHT ADJUSTABLE TABLE FRAME FOR DISABLED
A frame for height-adjustable tables for people with impairments Use the 4Single frame to create a height-adjustable kitchen table with a tabletop according to your specifications.
The frame allows you to design the kitchen table you have dreamed of. You can decide the width, length and tabletop materials and make the table just as you like it.
Since there are no crossbars underneath the table, wheelchair users get comfortable access at all sides of the table. This makes it highly suitable for people with impairments – and yet it looks like a high-end designer table.
The 4Single frame is available in two height adjustment ranges and with manual or electrical height adjustment. You can see all available models in the 'Overview' section below.
The perfect kitchen table for people with impairments
The 4Single table frame allows you to design exactly the kitchen table you would like. All you need to do is decide the measurements, tabletop surface and height adjustment range.
The frame comes in a matte dark grey finish that oozes modern elegance. Combine it with a black tabletop for a minimalist look, or go with a practical white surface for a simple and stylish kitchen. Or you can choose anything in between.
Regardless of the table's look, the functional features are the same, and the fact that it is an excellent kitchen table for people with disabilities is without question. That is probably why we see the table used not only as a kitchen table but also as a dining table, meeting table and work table.
Customise the table to your needs
You can get table frames from 60 cm to 300 cm in length and 60 cm to 200 cm in width. This means that you can create quite small tables or large tables depending on your requirements. The frame can be fitted with tabletops in almost any available material.
If you mount robust brake wheels on the frame, you will get a movable table that can be placed almost anywhere in the room. It can be a practical solution in cases where the same table is used for different purposes or in cases where you have a large room and would like the flexibility of a movable table.
Manual or electrical height adjustment
Once you have found the right frame size, you need to consider whether you would like manual or electric height adjustment. They are both available with two height adjustment ranges:
55 cm to 85 cm
65 cm to 95 cm
The manual models are adjusted in height using a handle. The electrical height adjustment is adjusted by pushing a button that is integrated on the front edge of the table. And if you want to avoid cords lying on the ground, a battery-powered model is also available. In this case, you adjust the height with a remote control.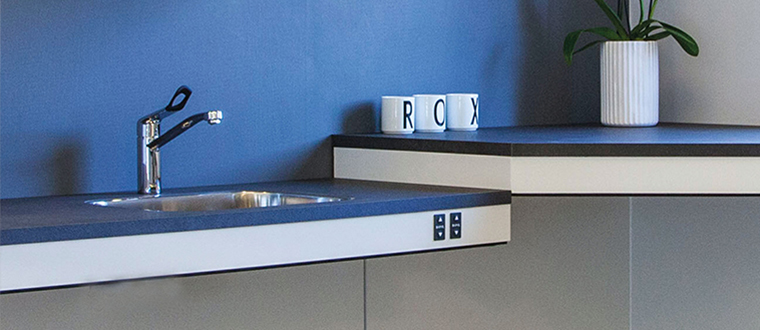 Safe, durable and stylish
The 4Single table comes with safety stops on the table frame. A safety stop is used to prevent jamming accidents. If something is squeezed when the table is lowered or raised, the safety stop will bring the table to a standstill and relieve the pressure so that you can remove the item that is jammed. The safety strips are available in a range of lengths so that you can find a good match for your specific table.
The high-quality materials and carefully considered design are tested and certified to the strictest relevant standards to secure long-lasting reliability and safety for our customers. That is the reason ROPOX products are preferred among people with impairments and in professional health care environments.