Dementia Bathroom Concepts
Concept: Dignified care and bathing for people of dementia
When you are suffering from dementia, ordinary things can become challenging. Memory fails, and cognitive functions like orientation of time, space and surroundings may become weakened. You get confused and have difficulties finding your way. Therefore, people with dementia often become anxious and restless and may need help to find back to themselves – both in mind and body.
Bathing can be an unpleasant experience because it is often challenging to deal with the loss of independence and privacy. You may see people with dementia forgetting what a bath, being impatient and experiencing increased sensibility to water temperature and pressure.
How does the bathroom help persons with dementia?
The important thing is to make it possible for people with dementia to become as self-supporting as possible and to make the bathroom homely and comfortable. It helps the person with dementia to feel secure. It is equally important to make the room safe as there is a higher risk of fall accidents in a wet room – particularly if the user has cognitive impairments.
When a person with dementia needs help with personal care, it should be as safe and recognisable as possible. In the bathroom, it is an advantage to:
Keep a comfortable temperature and avoid draught in the room
Make sure that the lighting reduces glare and reflections
Use homely elements in the interior decoration
Highlight doors, furniture and sanitation
Use a calm, even surface for the walls and unicoloured, light floors with a low gloss
Reduce noise disturbances
ROPOX Dementia Concept: A bathroom customised for people with dementia
ROPOX has developed a dementia bathroom concept, which takes the specific needs of people with dementia into account. The bathroom solution comes equipped with custom-made products that help persons with dementia to make up for the challenges they might have with, for example, memory, orientation and taking care of themselves.
The dementia concept makes it easier for persons with dementia to orientate themselves in the bathroom and look after themselves – without losing perspective or orientation. The products are created so that, for example, contrasting colours make it easier for people with dementia to orientate themselves, and they also take into account that many with dementia have increased sensitivity to temperature, sound and sensory stimuli.
The concept is characterised by having:
Grabs and handles in contrasting colours
The possibility to demount mirrors because reflections can create insecurity and confusion
Fixtures and mixer taps with scald protection
Contrasts and colours highlight the interior elements and help the user locate sanitation, furniture and equipment
Comfortable surfaces in room temperature
Products in break-proof materials and without sharp edges
Cabinets with soft-close to ensure a sound-proof environment
PRODUCTS IN THE DEMENTIA BATHROOM CONCEPT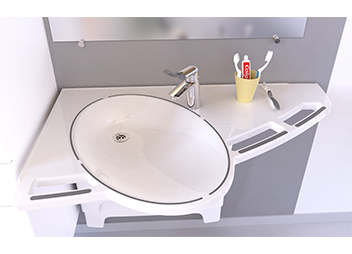 Height-adjustable washbasin with edges in contrasting colours and integrated grabs
The washbasin in the dementia concept is height-adjustable, solid and user-friendly with integrated grabs. To make it simpler for persons with dementia to see and recognise grabs and washbasin, they are marked with contrasting colours. This way, the grabs and washbasin are easier to locate for the user.
The fixture's scald protection ensures that it always has a comfortable temperature on the outside. It prevents persons with dementia from touching the fixture when it feels either very warm or cold, which can be uncomfortable when you are sensitive to sensory stimuli.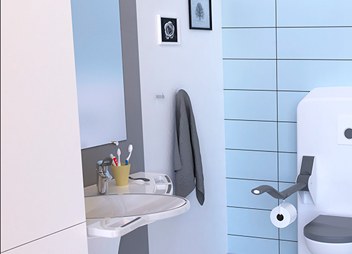 Mirror and Tall cabinet for dementia bathroom
Glares and reflections can be disturbing for people. That is the reason the bathroom mirror has special fittings, which make it easy to dismantle if needed.
To ensure optimum and quiet sound conditions, the bathroom cabinet has a soft close feature, which ensures that the cabinet door always closes quietly to avoid sudden, high noises. Furthermore, the cabinet has a uni-coloured, matt finish, which helps to create a calm environment that supports the person with dementia to keep their focus on the care that is taking place.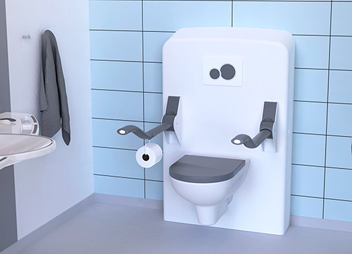 Toilet and toilet supports in contrasting colours
Like the washbasin, the toilet is designed with contrasting colours on the toilet seat, and the same applies to the flush button and the toilet supports. The toilet supports also has soft close so they can be folded up and down quietly.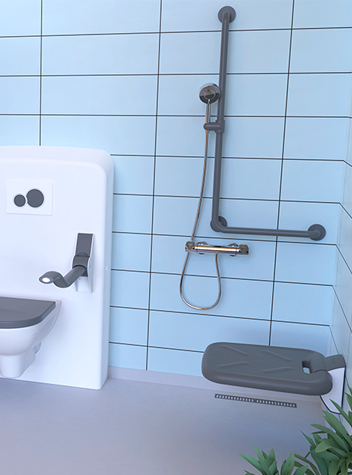 Many people with dementia experience increased sensitivity to pressure and temperature. That is the reason the showerhead spray can be adjusted so that the pressure can be set to a soft and pleasant pressure for the user.
The mixer tap comes with scald protection, which protects the users from touching both high and low temperatures. There are also grabs in the bathroom, and, again, contrasting colours are used because they support persons with dementia to identify the different elements. The same applies to the shower seat, which has a soft and warm surface in PUR form, making it comfortable to sit on.
The Dementia Concept bathrooms give greater comfort and better quality of life
When you decorate a bathroom with aids that meet the specific needs of each individual person with dementia, it can give the user more independence and more options for the care workers. For users in their own home, it can help postpone moving into a care home, and for nursing home residents, it can enhance the quality of everyday life.
But it does not only make a difference for people with dementia. It also reduces the strain for relatives and carers, when the person with dementia can do more on their own. With the right solutions, everyone gets a better overview, more peace of mind and a higher quality of life.

We have created this page with inspiration on to create bathrooms for people with dementia in corporation with a recognised dementia expert.
Interested? Please get in touch with us here: